Rawai Muay Thai
in Khao Lak, Thailand
WELCOME TO RAWAI MUAY THAI
training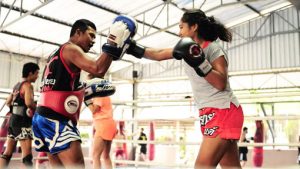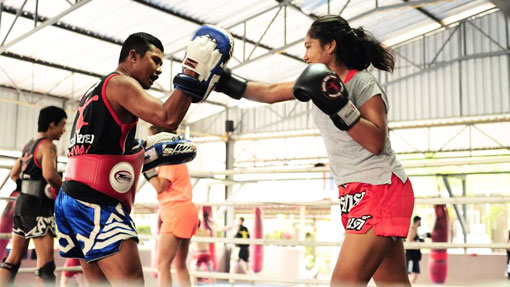 We offer group classes and private lessons and fight training. We also offer certification in Pad Holding and Muay Boran.  Learn more
Accommodation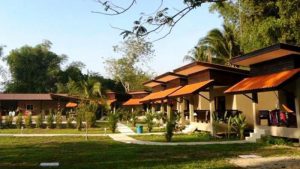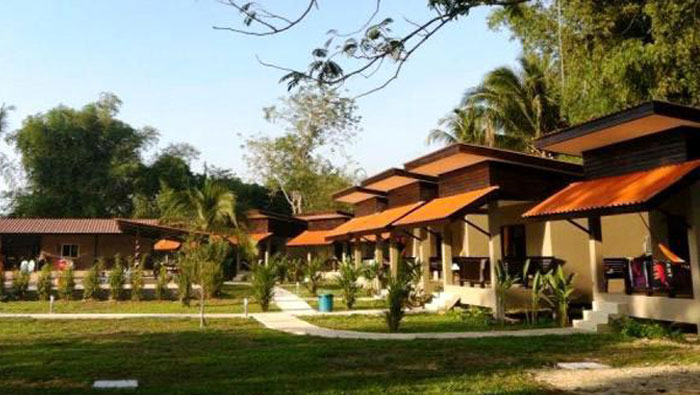 The camp has 35 private rooms/bungalows. Most rooms have air-con and  a few are just fan ventilated. There is high speed WiFi throughout the whole camp. All accommodation has en suite bathrooms and android TVs, small kitchens and porch. Learn more
Our Team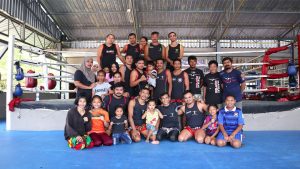 Our team of dedicated trainers are all highly experienced Muay Thai fighters. They are experienced in teaching Muay Thai to people of all levels. Our friendly trainers makes classes fun. Meet them
Our Story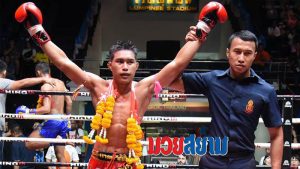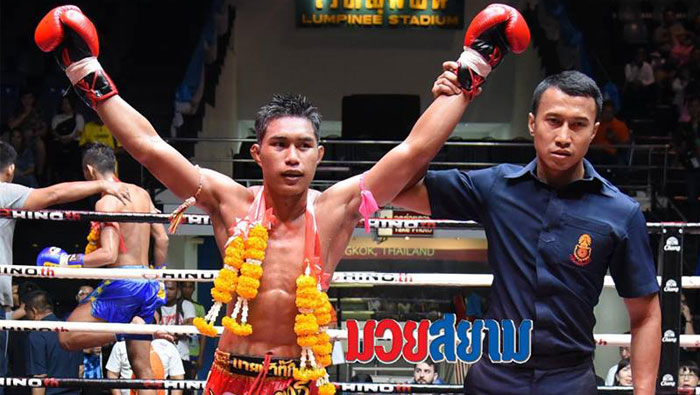 We opened in 2003, as one of the first gyms in Phuket. By teaching men and women of all levels, we helped to change the face of Muay Thai forever. Read more
About Us
At Rawai Muay Thai we teach Thai Boxing, obviously, but more than that, we offer people a chance to live and learn from the Thais and to be part of their culture. Muay Thai is not just a sport, it is a way of life. After a few days in the camp you can feel this very strongly, and begin to take part in the Muay Thai lifestyle.
Rawai Muay Thai is a traditional Muay Thai gym, owned and operated by Thai people. Tuk, the owner of the gym, was a fighter and now teaches to the new generation of boxers. His brothers all have helped in the gym, and most of the trainers also competed in the professional boxing arena. Growing up as a boxer Tuk met many other athletes, some of whom have come to teach with us and form part of our team.
The facilities at Rawai are perfect for training daily and relaxing. The gym has 4 large boxing rings, 19 kick/punching bags. Large mirrors and mat floor. Weight room and locker room with showers. We also have a swimming pool, restaurant, massage shop, gear shop and scooters for rent. See photos of our facilities.
Our gym has been around for a long time. We were one of the first gyms in Thailand to teach everyone who was willing to learn, not only male Thai fighters. We are proud to have been trailblazers in the opening up of this wonderful sport, to women especially, who were barred from gyms in the past. We were located in Phuket, but after 10 years, we moved to Khao Lak. Read more about our gym history.
Phuket has grown and is too busy, in our opinion. To focus on your training, you need a quiet place, with few distractions. Khao Lak is just that, set in the Andaman Coast, it offers nice beaches to relax in, lush vegetation and a small town with enough amenities to make your stay enjoyable.
Lastly you can keep up to date with our fighters in the Fight News. We sponsor Thai fighters from a young age. We pay for their accommodation, training, food and travel expenses so they can have successful careers as Thai fighters. Part of your training fees are used to help these young athletes achieve their dreams.
Rawai Muay Thai offers more than just great training. The camp has excellent facilities to help make your stay more enjoyable. The gym area has 4 large boxing rings and 19 kicking/punching bags. Floor to ceiling mirrors, a large mat area,  an air-conditioned fitness room and women's and men's toilets with showers. 
The on=site accommodation is comfortable, clean and well maintained. Choose from air-con rooms and bungalows to more budget friendly fan bungalows. All rooms have WiFi, en-suite bathrooms with hot water shower, small kitchens with fridge, microwave, blender, kettle and toaster. And the rooms have porches with hammocks to lazy around in between classes. 
Moving on to the large swimming pool next to the restaurant where you can do laps or float around. And don't forget to book your Thai massage with Ari. A good massage is a must after a tiring Muay Thai class.
The camp also has a gym shop with all the gear and apparel you need to train: gloves, shorts, hand wraps, shin guards, singlets and more. You can also order custom shorts and more specialized gear not in the shop. Just ask the gym staff to help you. We also sell protein in the shop. Ask the shop staff to show you the list of protein products we sell from Musashi. Finally, we have scooters for rent to get around Khao Lak, and we also offer a taxi service. We can pick you up at Phuket airport, anytime, day or night. Just contact us for more details.
Amazing Location
Finally, Rawai Muay Thai is located in the beautiful and quiet seaside town of Khao Lak, about 1 hour North of busy Phuket. This is the ideal location for your Muay Thai training holiday for those who want to party less and train more. The camp is surrounded by tropical jungle and close to nearly empty beaches. The facilities are modern and comfortable, including spacious rooms, a swimming pool, restaurant, massage hut and WiFi throughout the camp.
Authentic Thai Trainers
Thirdly, the trainers make the gym a special place. We are lucky to have a great team of dedicated trainers who love to teach. Our Muay Thai Trainers teach the proper Muay Thai techniques, in a friendly and patient manner. We have a reputation for focusing on the quality of the Muay Thai training which has made us well known around the world.
Values Tradition
Another reason that makes Rawai unique is its focus on tradition. Rawai Muay Thai is a traditional gym. We value tradition and Muay Thai customs. Tuk, and his brothers, who all fought professionally, were brought up in fighting gyms in Bangkok. So, in addition to the top-notch Muay Thai training available in our gym, we emphasize other aspects of Thai Boxing such as Muay Boran and the Wai Kru ceremony, which is performed before every Muay Thai fight. Furthermore, Rawai Muay Thai is also one of the few camps in Thailand that offers a Pad Holding Certificate. For those advanced students who might teach back home, this is a must.
Thai Owned and Operated Gym
Secondly, many gyms in Thailand are foreign-owned. The boom in Muay Thai tourism in the early 2000s has led to significant foreign capital investment in Thailand gyms. But Rawai Muay Thai has been owned and managed by Thai people from the start. Tuk (Sakeddao Sor Ayupinda), the owner of RMT, founded the gym in 2003. It was one of the first gyms in Thailand to teach foreigners and women. You can read more about the gym history here.
Friendly Atmosphere
Are you looking for good quality Muay Thai Training? People from all over have been training at Rawai Muay Thai since 2003. We are one of the most popular Thai boxing camps in Thailand. But why? What's so special about us that is hard to find in other gyms? The answer might surprise you. Rawai Muay Thai is not just a gym. It is a family.
Above all, Rawai Muay Thai is a family of trainers, staff and students from all over the world who live together and share a passion for Muay Thai. Students who come back year after year always mention the family atmosphere in the camp. They feel like there are "coming home". Training with us is not just a sport or exercise; it's a life experience that you will never forget.
Crazy Discounts
For guests staying 2 months or longer in the camp we are currently offering a 20% discount on training. The normal monthly rate is 10,000 Baht, but with the discount it is only 8,000 Baht. This covers all group classes (12 classes per week).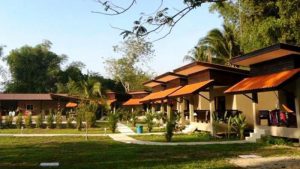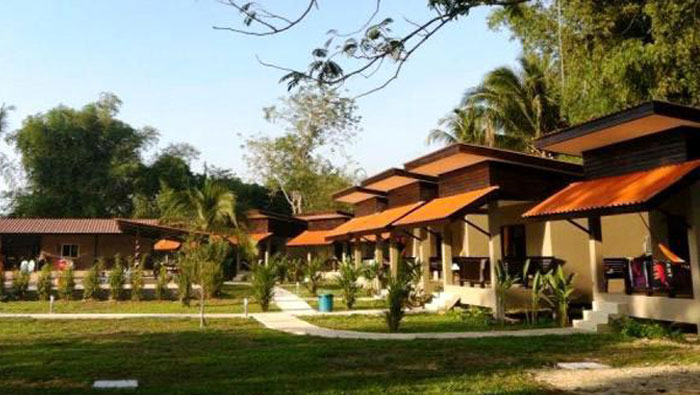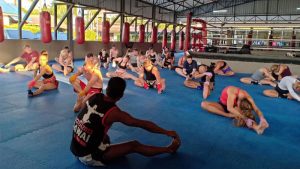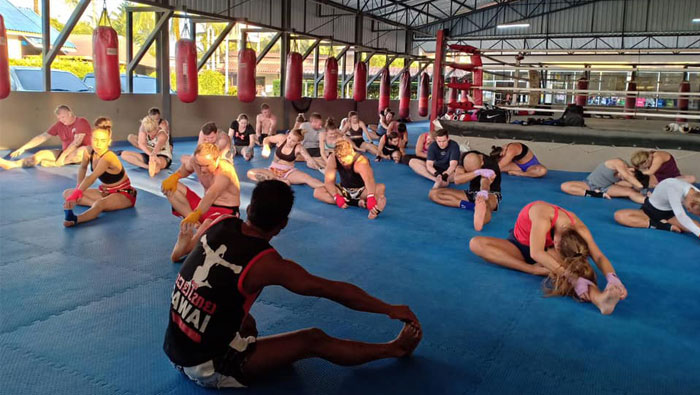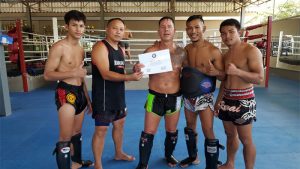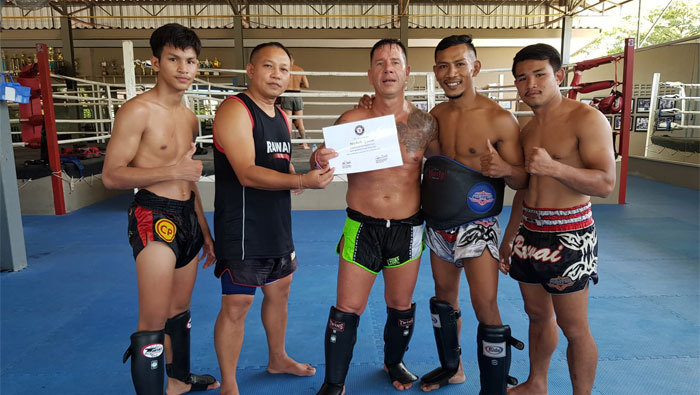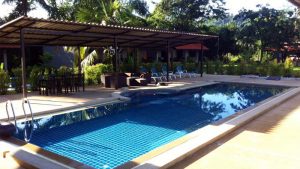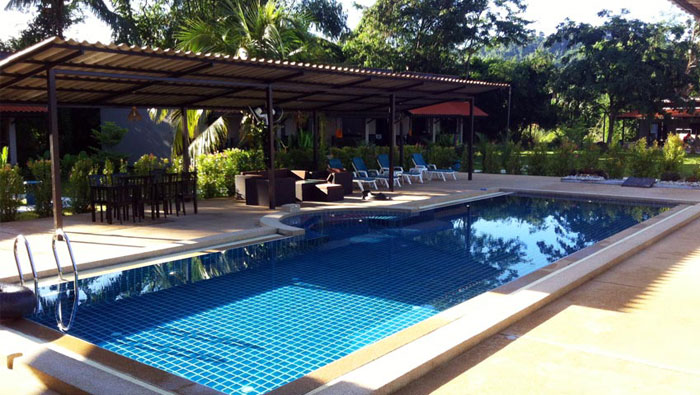 I recently did a short training stint at Rawai with one of my friends. I had an excellent experience training under the careful guidance of their knowledgeable staff. I used to hear from other people that some of the trainers in Thailand don't care about the students, but this was certainly not the case at Rawai. I felt as though the Thai trainers at Rawai really cared about each person's progression, and you can witness the sheer joy and passion in their faces as they teach something they love to someone willing to listen and learn. The rest of the camp was great: location, accommodation and gear shop all made for a wonderful time. I'll be back!
I've been training all over Thailand for 6 years. This is the first time I've been to Khao Lak, and I have always intended on training at Rawai Muay. I wasn't disappointed. It's a professional, friendly, happy gym with a real family vibe about it. All of the trainers were brilliant with me, my wife and especially my 3 year old son. It's a holiday we will never forget as a family, and we're already looking at booking for next year. Thank you, everyone, at Rawai Muay Thai.
I came for a week at stayed for 6. I guess that says enough. Very friendly staff and trainers. The one thing I was surprised about is the balance between men and women. In my time here it has been about 50/50 which was really nice to see. People train at their own pace. Some train really hard and others are a bit more relaxed like myself. A great place to do either. Many people keep coming back to Rawai Muay Thai and I am sure I'll be one of them.