Rawai Muay Thai
Training For All
Welcome to Rawai Muay Thai
Why Train with us?
Looking for good quality Muay Thai Training? People from all over have been training at Rawai Muay Thai since 2003. But why? What's so special about us that is hard to find in other gyms? And the answer might surprise you. Rawai is not just a gym, it is a family.
Friendly Atmosphere
Above all, Rawai Muay Thai is a family of trainers, staff and students from all over the world who live together and share a passion for Muay Thai. Students who come back year after year always mention the family atmosphere in the camp. They feel like there are "coming home". Training with us is not just a sport or exercise; it's a life experience that you will never forget.
When I get to the camp it feels like home.
Thai Owned and Operated Gym
Secondly, many gyms in Thailand are foreign owned. The boom in Muay Thai tourism has led to a big investment of foreign capital in Thailand gyms. But Rawai Muay Thai has been owned and managed by Thai people from the start. Tuk (Sakeddao Sor Ayupinda), the owner of RMT, founded the gym in 2003. It was one of the first gyms in Thailand to teach foreigners and women. You can read more about the gym history here. 
Great Trainers
Thirdly, the trainers make the gym a special place. We are lucky to have a great team of dedicated trainers who love to teach. Our Muay Thai Trainers teach the proper Muay Thai techniques, in a friendly and patient manner. We have a reputation for focusing on the quality of the Muay Thai training which has made us well known around the world.
Value Tradition
Another reason that makes Rawai special is its focus on tradition. Rawai Muay Thai is a traditional gym. We value tradition and Muay Thai customs. Tuk, and his brothers who all fought professionally as well, were brought up in fighting gyms in Bangkok. So in addition to the top notch Muay Thai training available in our gym, we emphasize other aspects of Thai Boxing such as Muay Boran and the Wai Kru ceremony, which is performed before every Muay Thai fight. Furthermore Rawai Muay Thai is also one of the few camps in Thailand that offers a Pad Holding Certificate. For those advanced students who might teach back home, this is a must.
Nice Location
Finally, Rawai Muay Thai is located in the beautiful and quiet seaside town of Khao Lak, about 1 hour North of busy Phuket. For those who want to party less and train more, this is the ideal location for your Muay Thai training holiday. The camp is surrounded by tropical jungle and close to nearly empty beaches. The facilities are modern and comfortable, including spacious rooms, swimming pool, restaurant, massage hut and WiFi throughout the camp.
Muay Thai Classes
Always wanted to try Muay Thai Boxing but thought that it was only for professional fighters? Scared to go into a Muay Thai gym for fear of being ridiculed or turned away for lack of experience or for being too fat, too old, too weak,etc? At Rawai Muay Thai we have always wanted to share the love for the Thai National Sport with everyone. Men and women from any country, of any level, from complete beginners to professional fighters are welcome to train with us. People of all ages can join our group classes or take private lessons. Everyone is welcome to train with us.
There are more and more people doing Muay Thai everyday. Not only is it a fun way to exercise, but it helps to relieve stress and builds up your confidence and just makes you feel better about yourself. Women in particular have taken notice about the benefits of taking self defense classes and Muay Thai fits right into that. 
We offer daily Muay Thai group classes. Morning class starts at 7:30 am and afternoon class at 4:00 pm. These classes last about 2 hours and include warm up, shadow boxing, pad work, bag work, technique, drills, stretching and cool down. We teach different technique each day. Some days we do clinching, others we focus on Western boxing. We try to mix it up. Everyone trains together, although we do separate by levels during some drills, like sparring and clinching.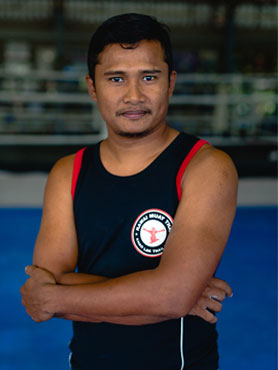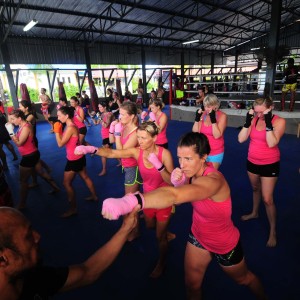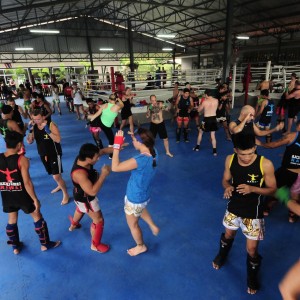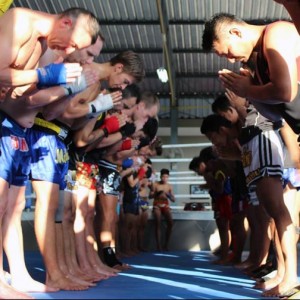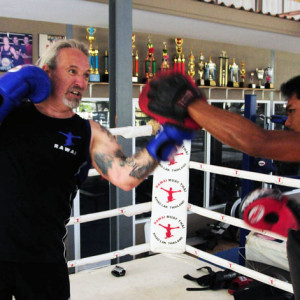 Training Prices (in Thai Baht)
Room Prices (in Thai Baht)
More Prices (in Thai Baht)
For More Info
If you are interested in training with us you can read our Frequently Asked Questions page. It is full of information that you might need to know before coming to Thailand. You can also read more about us, our gym history, our trainers, fighters and gym services here. We also include a brief Thai Language section, with basic Thai words and Muay Thai words for those interested in learning a few words in Thai. Might come in handy.
RAWAI MUAY THAI WELCOME VIDEO