HOW MUAY THAI SAVED ME
By Yana Fleming
10 September 2023
It was early June 2010, and I was in Doha, staying with some friends who were like family. It was a great chance to take a deep breath in a home atmosphere. I had flown over 385,000 miles since the start of the year. I was always on the road between Africa, the Middle East, and Europe. The constant travel was affecting not only my concentration but also my figure. All those hotel meals and meetings over drinks had me ballooning to the heaviest I'd ever been. I didn't know what was worse, that my carefully curated wardrobe no longer fit or the fact that I was working across seven time zones and never really sleeping.
One afternoon, my friends' 4-year-old son taught me to play all types of Wii games—but the best one was boxing. Being the impulsive person that I am and looking for a way to shed the weight I had gained from months on the road, I Googled boxing lessons and boxing camps.
That was the very first time I heard of Muay Thai. There were endless camps and classes all over the globe, with no shortage of grueling training videos. I was beginning to rethink this idea, as the people on the forums and on the camp websites looked too hard-core for me. Finally, I picked a place in a small town at the end of Phuket, Thailand. The Rawai site was not daunting—the tone of the content didn't make you think you had to be a professional fighter to train there.
My first full day in Thailand saw me riding a moped for the first time in over a decade. The gym office manager made me promise to wear a helmet and not to go over 40km per hour. I watched the evening class, and my eyes bugged out as I watched men and women of all shapes, levels, and ages kick, punch, knee, and elbow in unison. I got a little scared and opted just to swim and use the elliptical and bike. One of the class members noticed my expression and said, "Don't worry, you'll get the hang of it." It was exactly what I needed to hear. Whenever I ran into him, he was always ready with a genuine smile and words that made me want to keep trying despite what seemed like a total lack of coordination.
Over the next few weeks, I worked on my general fitness level, running around the globe, working 18 hours a day, and never staying in one place for more than 3 weeks, left me in terrible physical and mental shape. To get ready for a group class, one of the owners, Diana, suggested I take a few private classes. She gave me a different trainer each class so that I could see who could best explain these foreign moves to my left- and right-challenged brain. During this time, I met Tuk. He would make me smile with a silly joke and words of encouragement even though we both knew I was not very good. I also took a class with Boon, who didn't seem to be bothered by the fact that he had to move my arms back into position after each move physically. I also had a class with Fin, whose slightly scary booming voice bounced around the campus as he counted off the rounds every morning and evening.
In my private lessons, he shed his taskmaster mannerisms. He spoke softly, and when I didn't get it one way, he would keep coming up with different ways to explain how to do it until I could not only understand but could do it. He realized I was actually a lefty, which was the root of the majority of my issues.
In my last private lesson with him, I told him I thought I was ready to try group classes. He took me out of the ring and over to the heavy bags—where he taught me how to hit and kick them safely.  After completing that, my very first full 50-minute lesson, he told me to stand in front of him, put my feet together, place my palms facing each other in the center of my chest, and say, "kop-khun-kha."
The next morning, I took my first group class—it was a beast. I was paired on a heavy bag with a woman who had an inviting face and accented English I recognized all too well. She was a Brazilian. Married to an Australian coach at a Sydney gym, she, her husband, and their 8-month-old daughter were there with several of the people whom he trained in Australia. Simply having someone with whom I could speak honestly and who could slowly re-explain moves to me made the class not just bearable but fun.
Her husband looked like a Marine drill sergeant but turned out to be one of the nicest people I have ever met. I spoke at length with him about wanting to get better at Muay Thai but that my real goal was to shed the weight. He was training for a K1 fight and trying to get his people ready for their first "pro" fights in Thailand. Despite this, he still made time for me. He wrote out and explained how to do a series of different 15-minute exercises that could be performed anywhere from the African bush to a five-star hotel room in the Gulf.
He looked at what I was eating and rearranged the times to optimize my sustained weight loss. A staunch believer in the cheat day, he reminded me always to take off a day to splurge. Following his instructions and starting to get the rhythm of the class, the weight began falling off.
It felt great as my pants required a belt to stay up, but I still could not kick properly. It was really upsetting to me. I decided to take a few lessons from Don because every time he would demonstrate a combination on the heavy bag, you could see each muscle in his leg move and hear the thud as it came powerfully into contact with the leather. He sorted me right out in his own special way. He would grunt when I was wrong and crack a half-smile as I started to get the hang of it.
It quickly became easy—I couldn't believe it. I was swimming an hour every morning and doing two Muay Thai classes six days a week. I was doing my new 15-minute workouts in the afternoons before class. Time flew by, and it was already September. I had finally spent more than a month in one place. My mind was at ease, my body was feeling healthier, and I was starting to enjoy my simple life in Rawai. I woke up early and went to bed early. I was actually sleeping more than 4 hours a night.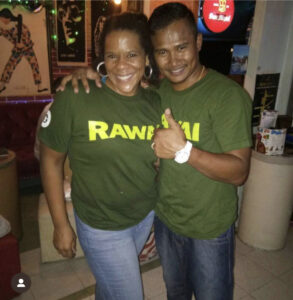 Time continued to fly; people came and went. A local German expat and MMA fighter who looked a little intimidating would stop by to check up on me in the weights area. He wanted to make sure I was doing the exercises correctly. He would ask me about what I'd been eating to make sure I was not starving myself. Since then, because of work assignments, I've been to several gyms across the country, and I can say this is not unusual behavior. You meet people who seem truly interested in the well-being of virtual strangers.
The kilos continued to drop to the point where I could no longer wear any of the clothes in my suitcase. I gave them away to one of the ladies on the housekeeping staff. She then went clothing shopping with me at the local market after work one day so I could get the Thai price.
To keep my meal cost down and adhere to my dietary preferences (no egg, beef or pork), I would ask the women at the front desk to write down my meal request in Thai so I could have it made at one of the local spots instead of having to go to an expensive Western-themed restaurant. These days, I am capable of ordering my favorite meals in Thai, always remembering to add "no sugar and no MSG, please."
Four months had passed, and in-person meetings were appearing on my calendar. While the first few weeks of my trip to Thailand were a mental vacation, after my mind and body settled into the routine, I began to work remotely. As I faced what I thought was the end of my Thai journey, I was in awe that I'd dropped 32 kilos (70 lbs). I was looking forward to being able to fit back into my clothes scattered across four continents.
The takeaway: Thirteen years ago, Muay Thai saved me not only from bad fashion options but most likely a nervous breakdown. Male or female, young or old, the picture of fitness or trying to jumpstart a healthier lifestyle—if you have the time, I suggest trying it for at least two weeks.
Today, I still find myself drifting back to Thailand for Muay Thai during moments of professional uncertainty or high stress.  If you add it all up, I have spent over six years in the country. I am writing this as I enjoy one of my extended stints at Rawai Muay Thai where I am far from the street noise and the bombardment of sex tourism that you will see in the more popular destinations.