About Us
At Rawai Muay Thai we teach Thai Boxing, obviously, but more than that, we offer people a chance to live and learn from the Thais and to be part of their culture. Muay Thai is not just a sport, it is a way of life. After a few days in the camp you can feel this very strongly, and begin to take part in the Muay Thai lifestyle.
Rawai Muay Thai is a traditional Muay Thai gym, owned and operated by Thai people. Tuk, the owner of the gym, was a fighter and now teaches to the new generation of boxers. His brothers all have helped in the gym, and most of the trainers also competed in the professional boxing arena. Growing up as a boxer Tuk met many other athletes, some of whom have come to teach with us and form part of our team.
The facilities at Rawai are perfect for training daily and relaxing. The gym has 4 large boxing rings, 19 kick/punching bags. Large mirrors and mat floor. Weight room and locker room with showers. We also have a swimming pool, restaurant, massage shop, gear shop and scooters for rent. See photos of our facilities.
Our gym has been around for a long time. We were one of the first gyms in Thailand to teach everyone who was willing to learn, not only male Thai fighters. We are proud to have been trailblazers in the opening up of this wonderful sport, to women especially, who were barred from gyms in the past. We were located in Phuket, but after 10 years, we moved to Khao Lak. Read more about our gym history.
Phuket has grown and is too busy, in our opinion. To focus on your training, you need a quiet place, with few distractions. Khao Lak is just that, set in the Andaman Coast, it offers nice beaches to relax in, lush vegetation and a small town with enough amenities to make your stay enjoyable.
Lastly you can keep up to date with our fighters in the Fight News. We sponsor Thai fighters from a young age. We pay for their accommodation, training, food and travel expenses so they can have successful careers as Thai fighters. Part of your training fees are used to help these young athletes achieve their dreams.
Facilities
Rawai Muay Thai offers more than just great training. The camp has great facilities to help make your stay more enjoyable. Starting with the accommodation: the rooms on site fit all budgets. Choose from deluxe private accommodation to budget dorm-style rooms. Next we have the pool-side restaurant which offers Thai and Western dishes at affordable prices. Moving on to the large swimming pool next to the restaurant where you can do laps or just float around. And don't forget to book your Thai massage with Namfon. A good massage is a must after a tiring Muay Thai class.
The camp also has a gym shop with all the gear and apparel you need to train: gloves, shorts, hand wraps, shin guards, singlets and more. You can also order custom shorts and more specialized gear not in the shop. Just ask the gym staff to help you. We also sell protein in the shop. Ask the shop staff to show you the list of protein products we sell from Musashi. Finally we have scooters for rent to get around Khao Lak and we also offer taxi service. We can pick you up in Phuket airport, anytime, day or night. Just contact us for more details.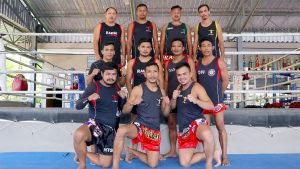 Rawai Muay Thai trainers take great pride in their work. They are patient and friendly and can teach beginners to professional fighters. They have perfected their craft, after many years of hard work as fighters and now as teachers. Meet the team.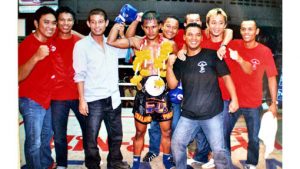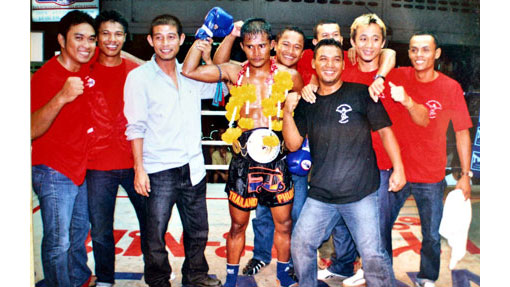 Rawai Muay Thai takes great pride in their students, especially their sponsored fighters who live and train in the camp. Keep up to date with fight results of Rawai Muay Thai fighters here.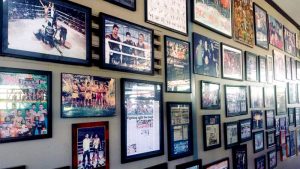 Learn a bit about the history of Rawai Muay Thai gym, from its early days back in 2003 to today. As one of the first gyms in Thailand to teach foreigners, Tuk Rawai and his brothers were part of a movement that placed Muay Thai in the world stage. Read more.